Steel & Iron Recycling
Here at Berger Recycling we can manage all of your Steel and Iron Recycling needs in RI, MA, and CT. More steel is recycled annually than paper, plastic, aluminum, and glass combined. This is because steel scrap is an essential raw material in making new steel.
It costs a lot of energy between the mining of the ore and the actually refining process to make new steel and iron. By recycling the metal it saves a ton of energy and the earth's natural resources. Steel and iron recycling has a great impact on the environment in a positive way, even though some of the resources used to produce these metals are plentiful they are nonrenewable.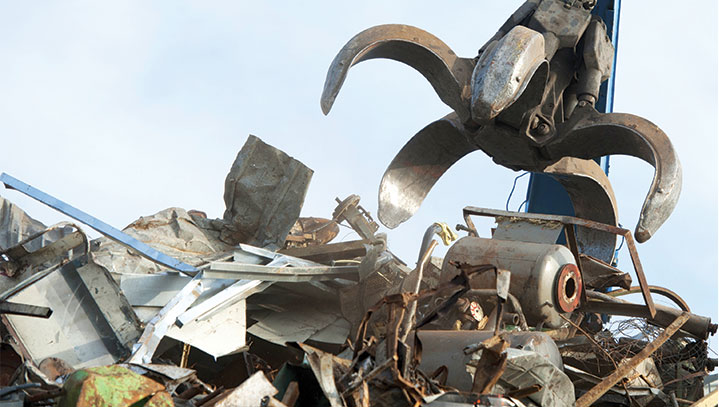 Our competitive pricing gives our customers the most bang for their buck. Depending on the quantity of the steel and iron you have, we can provide pick up services or it can be dropped off at our facility. When it comes to Steel and Iron Recycling we make sure that all of the metal is handled properly before it is shipped out.
Below are grading definitions for steel and iron recycled at our facility:
#1 Steel


#1 steel is steel that has a 1/4" or larger thickness, 4 feet or less in length, and 2 feet or less in width.
#2 Steel
#2 steel has the same dimensions as #1 steel, it's thickness however is 1/8" to 1/4" .
Cast Iron
Good uncontaminated (with other metal) cast iron has a value higher than that of #1 steel. Ceramic lined cast iron has a value approximately equal to #1 steel. The ceramic lining acts as a contaminant, therefore it has a value less than clean cast.
For all your steel and iron recycling needs in Rhode Island, Massachusetts, and Connecticut, please contact Berger Recycling today.